MY ARTISTS
MEET THE ARTISTS
Since I am not an illustrator, I enlist the help of some very talented people to illustrate my books. Visit their website to learn more about them and the services they may offer.
---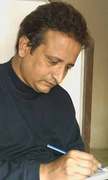 RAJEEV ATHALE, above, did the drawings for my book MY DOG'S WORLD. He lives in Indore in Central India - the ancient world of snake charmers and computer programmers. He has been drawing since he was a kid and was published in a magazine when he was nineteen. In his other life Rajeev is an architect and runs a small design firm. He lives with his wife and daughter. See more of his work at www.cartoonhub.com.
---

BROOKLYN RUSSELL, (no photo available), is from Brooklyn, New York. She did the illustrations for my book MY DOG ATE MY HOMEWORK...and other poems. She lives with her husband, daughter and three dogs.
You can contact Brooklyn at bnicoleruss@gmail.com. She can also be found at www.facebook.com/brooklynressellart and her ETSY site www.etsy.com/shop/doodleoodle.
---
JEFF SIMON
is from Long Island, New York and created the illustrations for my book "The Cats Final Exit Manual". He works in a variety of mediums, including acrylics and water color. Jeff is also an accomplished airbrush artist and also pinstripes cars and motorcycles. You can see more of his work at www.jtairbrush.com. You can contact him at jtairbrushart@aol.com
---