ARTICLES, POETRY, NEWSPAPERS, INTERVIEWS, ETC.
In addition to his books, Thomas Sarc has written articles, poetry and has been interviewed by several Long Island publications. Some interviews below...
Articles:
-NY Daily News

-Dan's Papers

-Montauk Pioneer

-On The Jitney magazine

-Hampton Luxury Liner magazine

-Examiner.com
-The Times, Times Herald, Times Record, Beacon Record, Times of Middle Country, Times of Smithtown (Long Island North Shore newspapers)

-Article about Wickham Farmhouse Murders in vertical file in local history room at Cutchogue, NY Library
Poetry:
Poetry South magazine
American Poetry Anthology
Days Of Future's Past
National Library of Poetry
Recipient of the 1989 Poet Of The Year Award
Interviews:
Suffolk County News
Islip Bulletin
The Beacon Record
---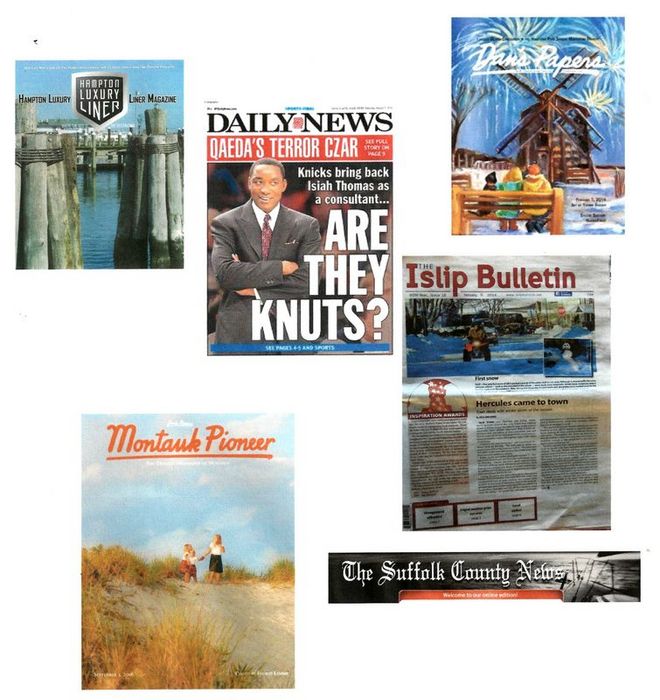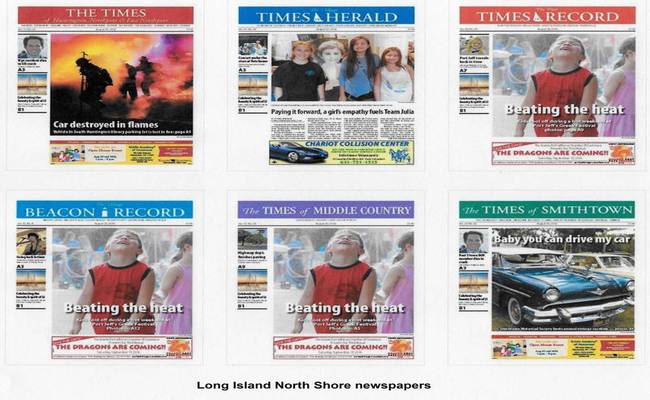 THE BEACON RECORD INTERVIEWS - Actual articles with photos can be found at http://tbrnewsmedia.com/?s=thomas+sarc (not sure how long they keep on line)

Book Review - Tom Sarc Gets Revenge On Telemarketers - March 2017
By Rita J. Egan
When Thomas Sarc had enough of telemarketers interrupting his life, he decided to have a little fun with them by playing pranks on the callers. The result of his antics as well as others' pranks is his latest book, "Tom Sarc Gets Revenge on TELEMARKETERS."
The Central Islip resident has written a dozen books covering various genres, and "Tom Sarc Gets Revenge on TELEMARKETERS" is a funny one. And, while he can't guarantee that readers will get less calls, some of his past telephone conversations will garner a chuckle, while others will have the reader laughing aloud.
At the end of the book, Sarc offers a few practical tips to try to eliminate calls from telemarketers, as well as advice on how not to fall for the telephone scams that are happening more frequently nowadays.
Recently, the husband, father and grandfather, took time to answer a few questions about the book via email.
Why did you decide to write this book?
Half a dozen times a day, seven days a week, during dinner, while watching TV, even before I get up in the morning, these pests call. It does no good to tell them to put you on the "do not call" list because, personally, I don't believe there is such a list. So, if I can't stop their calling, I can at least have fun with them—and annoy them too. My book is a compilation of my personal interactions with telemarketers as well as those of others who sent their stories to me. I wrote the book to show others, who are also fed up with telemarketers, some things you can do when they call.
How would you describe the book to someone who hasn't read it?
I am sure that most people are fed up with receiving telemarketer calls. I bet even telemarketers hate getting calls from their own kind. My book is a weapon against these pests. It is a humorous collection of conversations that actually took place between the telemarketer and the victim that was called. If you are looking for a way to have fun dealing with telemarketers, this book is the one you want.
What has been your funniest exchange with a telemarketer?
Not to give away the entire "exchange," let me just say that I pretended to be a detective at the home of the person the telemarketer called — in this case the telemarketer asked for me, Tom Sarc. I pretended that I was investigating the murder of Tom Sarc and asked questions indirectly accusing the telemarketer of being involved in the murder. The telemarketer became very upset and nervous. I believe that this is the most hilarious interaction I have had with a telemarketer and will use it again for future calls.
Have the number of calls you receive from telemarketers decreased since you started pulling pranks on them?
No. I didn't expect them to. I have even gotten calls from the same telemarketers but probably a different person calling.
This isn't your first book. In addition to the humor genre, what do you like to write about?
I write about what the "moment" or a "situation" puts me in. My first book was a humor book — "E-Mail Letters From a WACKO!" — that actually started out as a serious book dealing with unethical practices of a former employer. From there I moved on to children's books, teen horror, general horror and more humor. I even published a family recipe book titled "Dishing Out Delicious."
How did you start writing?
I first started writing while in college. I found that I was very good in literature and writing and received a lot of praise from my professors regarding my writing — both short fiction and poetry. My very first published writing was poetry for various magazines and anthologies.
What books do you have in the works right now?
Currently I am working on a nonfiction "covert operation" type book. I also finished a children's book about dogs and started a book about how to "beat the system." I am also working on a book about a murder that took place on Long Island in the 1800s.
Any advice to those who want to publish their own books?
The first thing I would do is buy a copy of "Writer's Market" and study what various publishers are looking for. The hardest part of writing is sitting down and doing the work. You have to invest everything you have into creating your book and that requires discipline. After you come up with an idea for the book, you write a sentence, then a paragraph and, if you are lucky, an entire chapter. Writing happens in little bits and pieces. It's a step-by-step process but it is not complicated.
Here are some steps to follow:
Decide what your book will be about.

Set a daily word count goal.

Have a set time to work on your book every day.

Write in the same place every time.

Embrace failure (not everyone can be Stephen King or James Patterson).

Don't give up!
"Tom Sarc Gets Revenge on TELEMARKETERS" is available in bookstores, at www.thomassarc.com and through the Amazon and Barnes & Noble websites.
---
LET'S EAT: SLOW COOKED TO PERFECTION! Tom Sarc's book Dishing Out Delicious - Interview September 2016
It's hard to believe but the kids on the North Shore are headed back to school this week and fall is just around the corner. For parents, the days are just going to be busier, with sports, homework, meetings, activities, concerts — the list goes on and on…
During this time of year, your slow cooker can become your best friend, making delicious meals that are quick and easy. Get in the back-to-school swing with these delicious slow cooker recipes, Slow Cooked Short Ribs and Sweet 'n Sour Pork Chops from Thomas H. Sarc's "Dishing Out Delicious" cookbook, a collection of the Long Island author's family recipes.
Sweet 'n Sour Pork Chops
INGREDIENTS:
Sweet 'n Sour Pork Chops
4 boneless pork chops, 1 inch thick
3 tablespoons brown sugar
3 tablespoons apple cider vinegar
4 teaspoons low sodium soy sauce
2 garlic cloves, chopped
1 package (14 oz.) frozen bell pepper stir-fry blend
4 teaspoons corn starch
DIRECTIONS: Coat a large nonstick skillet with cooking spray. Place on high heat. Sprinkle both sides of pork chops with pepper to taste. Add to skillet and cook 1 to 2 minutes on each side until browned. Transfer to a slow cooker. In a small bowl whisk together brown sugar, vinegar, soy sauce and garlic until sugar dissolves. Pour over chops. Cover slow cooker and cook on low for 4 hours.
Add frozen vegetables and increase heat to high. Cook one hour more or until chops are heated through (145 F) and vegetables are tender. Transfer chops to a platter, reserving the liquid and vegetables in the slow cooker. For the sauce, whisk together corn starch and 4 tablespoons cold water until dissolved. Stir in cooking liquid from slow cooker. Microwave on high for 2 minutes or until the sauce comes to a boil and thickens. Return to the slow cooker. Spoon vegetables and sauce over the pork chops and serve.
Slow Cooked Short Ribs
INGREDIENTS:
Slow Cooked Short Ribs
3 pounds beef short ribs
1 large onion, finely chopped
1 1/4 cups barbecue sauce
3 tablespoons honey
2 tablespoons flour
2 tablespoons dijon mustard
DIRECTIONS: Place the ribs in a slow cooker. Top with onion. In a medium bowl, whisk together barbecue sauce, honey, flour and mustard. Pour over ribs. Cover and cook on high for 4 hours or low for 8 hours or until the meat is very tender. Using a slotted spoon, remove the ribs from the slow cooker and place on a a platter. Spoon cooking liquid over ribs before serving.
Dishing Out Delicious' is available at www.thomassarc.com, Barnes and Noble and www.amazon.com....nook...kindle and book stores.