In memory of my beloved dog, GINGER
GINGER - May 9, 2003 to November 3, 2015
IN MEMORY OF GINGER - If love could have saved you, you would have lived forever!
On November 3, 2015, my beloved dog, GINGER, passed away. She was ill and, much to my regret, had to be put to sleep. Ginger was cremated and I have her ashes in a special urn (photo below) in my office.
Ginger, I will miss you VERY much but believe that pets do go to heaven and I hope to be reunited with you one day.
My children's book, MY DOG'S WORLD (originally published in 2008 and then reprinted in 2013 with actual photos of Ginger), although a children's book of fiction, was "inspired" by my dog Ginger.

The last photo on this page is of my other dog, Bella. Bella is, according to the North Shore Animal League (where my younger daughter got her from), part Australian Cattle Dog. Bella was born in 2011 and, although about seven years younger than Ginger, they were great friends!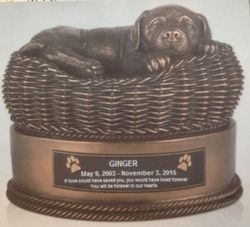 Urn containing Ginger's ashes